More than 82 years of experience in the development of medical technology.
The history of Fukuda Denshi Co., Ltd is the history of the Electrocardiograph. From the first Electrocardiograph in Japan until now, a history of our innovations is listed.
1935 to 1949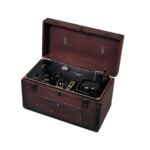 First ECG in Japan
Vacuum tube, Battery operated, Photographic one channel ECG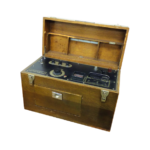 AD-1
Produced from 1949, Vacuum tube, AC operated, First Differential Amplifier adopted, Photographic one channel ECG
1950 to 1959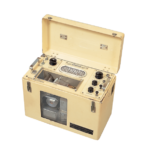 RS-1
Produced from 1951, Differential Amplifier adopted, First Direct writing ECG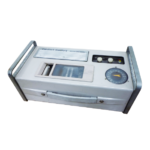 DR-1T
Produced from 1959, Semi-transistorized, First compact design but high performance, one channel ECG
1960 to 1969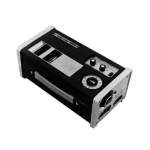 FCC-1
Produced from 1968, Heat pen writing, All-transistorized, one channel ECG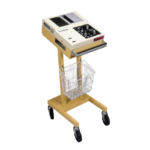 DU-3S
Produced from 1968, Heat pen writing, All-transistorized, Plug-in type Input circuit adopted, 3-channel ECG
1970 to 1979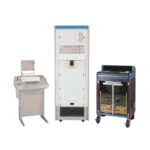 ECP-100
Produced from 1977, ECG and Mini-computer combined Automatic ECG analysis system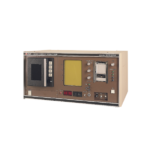 SCM-240 First ECG Holter in Japan
Produced from 1977, long-term playback system, capable of analyzing ECG at 60 times higher than recording speed, and display of ECG waveform 20 seconds before and after ECG when the playback was stopped.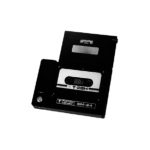 SM-24 First Holter Recorder in Japan
Produced from 1977, 24-hour ECG recording, Cassette tape Recorder.
1980 to 1989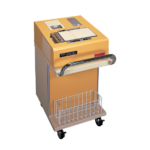 FCP-30
Produced from 1978, Compact, Automatic ECG analysis unit, capable of analyzing ECG per person for about one minute and printing Patient ID, HR, 5 stages analyzed Minnesota codes.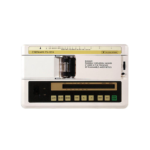 FX-102
Produced from 1983, First isolation amp and position feed back mechanism adopted, A-4 size, one channel ECG. The Good Design was awarded.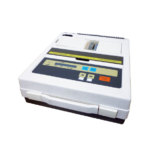 FCP-11
Produced from 1983, First thermal writing head adopted, 63mm paper wide, One or Three channels recording selectable, Automatic ECG analysis unit.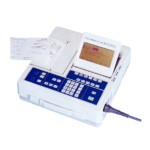 FCP-140
Produced from 1986, ECG waveform display LCD and Thermal writing head adopted, 145mm paper wide, Automatic ECG analysis unit.
1990 to 1999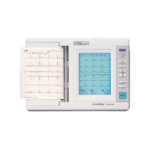 FX-3010
12-Lead ECG display in an A-5 size design with touch panel controls and IC card drive for data filing.

FX-4010
Unique high resolution LCD display with IC card drive and built-in battery as option.

FDX-4510
Multi-Function Electrocardiograph with large backlit LCD, enhanced ST level measurement, full support for Stress Testing functions and full analysis reports.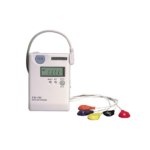 FM-100
The compact, lightweight design Digital Holter Recorder with large-capacity IC memory card for quality waveform recording.
2000 to 2009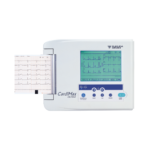 FX-7202
Advanced Electrocardiograph with touch screen for easy operation and built-in memory for ECG storage.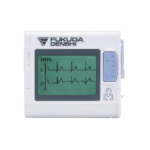 FM-150
A lightweight and super-compact body with a newly developed single-use electrode system provides a comfortable environment for the patient.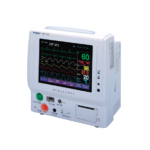 DS-7100
Multi parameter configured bedside monitor. Allowing the user to select the best set-up specific to the hospital environment or nursing style.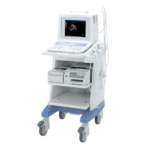 UF-750XT
Portable Color Doppler Ultrasound System
2010 to 2016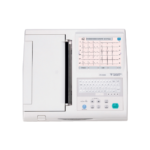 FX-8322/R
The new CardiMax FX-8322/R comes with a large screen (LCD) to display clear ECG waveformes.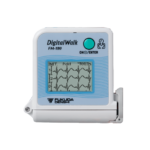 FM-180
Durability in extreme environments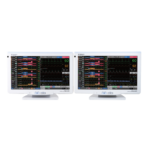 DS-8900
With its 26 inch display and multi-display configuration, all the information can be reviewed in a blink of an eye. More powerful than its previous models.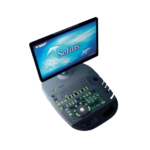 UF-890AG
New generation of ultrasound systems is an open and flexible platform with an innovative and smart architecture, providing a new level of diagnosis confidence and an enhanced return on investment.