A comprehensive quality control system ensures production processes consistently supply high-quality products.

Over the years, Fukuda Denshi's production system has evolved into a sophisticated web of activity that meshes with our R&D network and ensures the effortless flow of products to our marketing divisions. From the moment R&D begins, our production staff begin considering potential ways to optimize production efficiency once manufacturing actually begins. We keep production closely in mind throughout the design stage to ensure that manufacturing progresses smoothly from the start, and that our customers always receive products of consistent quality.
Behind the scenes
Based on our philosophy of an integrated R&D, production and marketing system, the person in charge of R&D for each product maintains overall supervisory control until the shift to production is complete. Product inspections are important in any manufacturing industry, and ours is no exception. In the medical equipment industry in particular, stringent product inspections are essential because of the intimate link our products have with customer well being. Careful attention to detail in this field can, quite literally, mean the difference between life and death.
Given the significance of this stage of quality control, Fukuda Denshi does not test merely representative samples of its products. Rather, we inspect each product and component individually. This thoroughness has earned our products and components their well-deserved reputation for consistent quality and has justified the trust of our customers.
Production strengths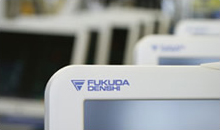 The capability of generating a large number of specialty products requires plants to be nimble. Our Shiroi Factory in Chiba Prefecture is just such a plant, mass-producing as many as 300 different products each year,many of them in small lots. Effective personnel training is also critical to the successful automation of individual processes.
We perform electrical resistance quality control tests before sending components to the assembly line. After assembly, completed products undergo several additional checks before being transported to distribution centers for delivery.
Looking at it from one point of view, production is the nerve center that processes information from the sales entity, which it returns as finished products. The essential links in this procedure are production management, inventory adjustments and painstakingly thorough and repeated checks.
The multiple checks that each product is subjected to prior to delivery include electrostatic inspections, temperature and humidity checks and vibration testing. The successful conclusion of each test adds another guarantee of reliability to our products.
Overseas, we are creating a manufacturing network that will span several countries and geographic regions. Albeit a complex task, we have already begun enjoying successes in some areas. Ultimately, we believe that our efforts to globalize operations will pay off, as we are able to provide products that are specifically tailored to customers in different markets.