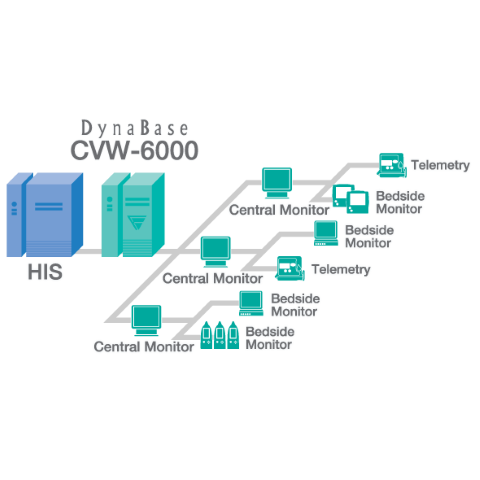 CVW-6000
DynaBase CVW-6000 software stores patient data monitored from Central monitor(s) in a server based database. Stored patient data can be reviewed from web browsers on client PCs connected to a TCP/IP network.
FEATURES
A system that will match your needs.
Improve management environment in a hospital.
Easy access to up to date patient information anytime, anywhere in a hospital.
Full disclosure, event recalls, tabular trends, and graphic trends display.
Immediately review patient's status in case of emergency.
NOTE: CVW-6000 system is not a patient monitoring system.
Stores vital patient data for up to two weeks during hospitalization and a further two weeks after patient discharge.
Up to 32 central monitors can be connected to 6 servers. (maximum configuration)
HARDWARE REQUIREMENT
OS and Web browser
The following combination is recommended:
Windows® 7 + Internet Explorer 8
Windows® 7 + Internet Explorer 9
Windows® 7 + Internet Explorer 11
Windows® 8.1 + Internet Explorer 11
Java Runtime Environment
JRE 1.6.0-24 or JRE 1.7.0-15
Internet Options
Set security level for Local intranet to Medium-Low. Turn off Pop-up Blocker.
CPU
Pentium 4 2 GHz or more recommended
Memory
512 MB or more recommended (for client PC using DynaBase only)
Resolution
1024 × 768  resolution or more, 256 or more colors
HDD
100 MB free space for Java Runtime Environment.
CD-ROM Drive
Required for software installation.
Communications interface
Ethernet controller conforming to 100Base-TX. (Built into chip set, PCI, PCMCIA, etc.)
Other storage devices
Devices that are recognized under Windows® environment as drives and come with media that permits rewriting.
Hub
100Base-TX switch (reccomended)
LAN Cable
Category 5, 100Base-TX compatible