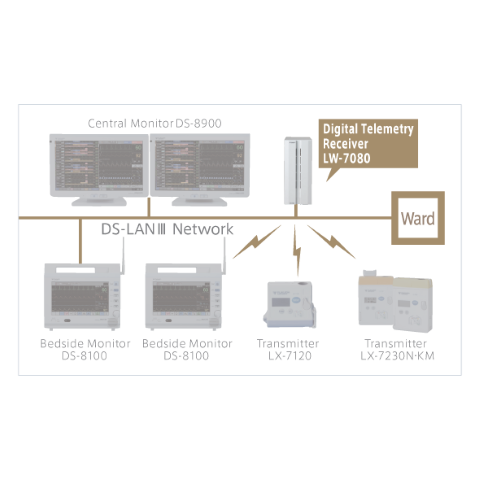 Telemetry Receiver
LW-7080
Connection can be made directly to the DS-7700 central monitor and construct a wireless network system to monitor vital signs such as ECG, respiration, blood pressure, temperature, SpO2, and others sent by the LX-7120 or the LX-7230 telemetry transmitter or the HLX-801 telemetry transmitter module. All the operation of LW-7080 can be done at the central monitor via local area network.
FEATURES
LW-7080 central telemetry receiver is compatible with the patient monitoring network.
Receives vital sign data transmitted
from up to 8 patients.
Receives up to 6 waveforms and all alphanumeric data.
Patient data distributed on the local area network for review at the central station,
DS-7700.
SPECS
Dimensions
132mm(W) x 290mm(D) x 305mm(H) (±30mm, not including the protrusion)
Weight
8.6kg ± 1kg